Prez says...


Last night (2/15/18) we had one of the biggest showings in several years at our monthly meeting at Avanti. Aside from the usual car chit/chat we also took up some business. Of paramount concern is our continued production of the Blackhawk Farms track day. Traditionally we run about the 4th of July holiday. Escalating costs and uncertain attendance have truly impacted our ability to produce this event. We have tentatively agreed to pursue June 9th as our day. Barb Carroll justifiably expressed her concerns over the financial risk. We've lost money the last couple years and you never know what the weather holds in store.

We agreed to designate a promotional coordinator. As of this moment that party has not been designated. That person's function would be to coordinate an appeal to the various car groups to run with us. If you have connections with other track oriented groups let me know or put them in touch with me. It is our intention to put together a presentation package, script if you will, for presentation to other groups. Wayne Seely has already uploaded in-car video to the web site. Hopefully that will stir up some enthusiasm. The more people we get to help in promotion, the greater the chance for success. This event has been on our books for over 30 years and we do not want to give it up.

If you know a company or individual that would like to sponsor us let me know.

Much of the above will be addressed at our next board meeting set for Sunday February 25th at 9:00 A.M.
Panera Bread-Deer Park 20530 Rand Road #448
Deer Park, IL
Please join us.

We plan on doing Model Car night on March 15th. Most likely it will be the same location as last year, D'Agostinos's Pizza and Pub but I will confirm that in an upcoming notice.

Stay tuned for further updates and upcoming activities.
February 16, 2018
Respectfully, Dennis M. Sbertoli
View archived notes from the Prez
---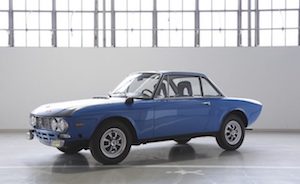 FCA to Buy, Restore, and Sell Classic Alfa Romeos, Fiats, Lancias, and Abarths
Fiat Chrysler Automobiles (FCA) may want your classic Italian car. The automaker has just launched a new initiative, Reloaded by Creators, that aims to buy, restore, and sell some of the most significant vehicles from the company's history. Focusing on Italian brands (the company has shown no interest in your slant-six Plymouth Valiant), the project aims to bring Alfa Romeos, Fiats, Lancias, and Abarths back to life while building the company's own collection of historic cars. READ FULL ARTICLE
---

VIEW the spectacular 48-page insert received by subscribers to Autoweek, titled "Alfa Romeo: La Meccanica delle Emozioni Special Publication", was graciously sent to AROC. It bills the brochure as "The vehicles that Alfa Romeo builds today are the extension of a legacy that began more than a century ago. The complimentary download, produced in partnership with Alfa Romeo, illustrates over a century of the brand's storied history. Steeped in technological innovation, gorgeous Italian design and style, and racing excellence here is your chance to reach what makes a vehicle worthy of bearing the Alfa Romeo badge."
---

The Alfa Romeo Quadrifoglio
Enzo Ferrari, during his employment at Alfa Romeo, encouraged his friend Ugo Sivocci to follow him there. Together they joined with two others - Alberto Ascari and Giuseppe Cam-pari - to form the four legendary Alfa Romeo factory race car drivers.
Of the four, Sivocci was quick, but rarely won races. It seemed he just had bad luck. Out of frustration, in advance of the 1923 Targa Florio, he painted a lucky symbol on the hood of his RL: a green four-leaf clover on a white diamond background. He won the race, and believed now that his luck had turned due to his "Quadrifoglio".



Later in the year, he was tragically killed while practicing for the Grand Prix at Monza in the newly designed P1. Ironically, he had not yet had an opportunity to paint his good luck Quadrifoglio on this car.

Alfa Romeo recognized this tragic loss by retiring his car's number - 17 -which has never appeared on a factory race car since.

The four corners of the white diamond where said to represent these four famous piloti. With Sivocci's un-timely death, one point of the diamond was removed, creating the triangle, which remains to this day as an integral part of the Quadrifoglio badging, appearing on competition cars for the last 95 years.
---

All-new 2017 Alfa Romeo Giulia Quadrifoglio Wins Three Awards from the Texas Auto Writers Association
The all-new 2017 Alfa Romeo Giulia Quadrifoglio was crowned "Car of Texas" and also took home honors for "Performance Sedan of Texas" and "Most Drives" at the Texas Auto Roundup hosted by the Texas Auto Writers Association (TAWA) at Circuit of The Americas (COTA).
---

If interested or if you have any comments or complaints, drop me a note at: dsbert4978@aol.com
Dennis
---
---
Alfa Expo 17
ARCC & AROC-USA combined convention
Montreal 13-16 July 2017
Hosted by: Club Alfa Romeo de Montreal (CARM) and The Alfa Romeo Club of Canada (ARCC)
Commemorating the 50th Anniversary of the 'Montreal Prototype'Screenshot 2016-07-20 17.16.20
VIEW EVENT Portfolio (17MB PDF)

---
Sweet Julia Gulia! Alfa Romeo Giulia Laps the 'Ring with a Quickness
Car and Driver
- Rumors of the Alfa Romeo Giulia's barn-burning Nurbürgring lap time have been circulating for weeks, but Alfa went ahead and confirmed it at the Frankfurt auto show, relating that its new sports sedan lapped the Green Hell in a scorrching 7 minutes and 39 seconds.- While Alfa didn't confirm the exact specifications of the Giulia responsible for posting the record time, it's unlikely that it was anything but the high-performance Giulia Quadrifoglio, which we've heard and seen testing before. Read the full story
---
The new Alfa Romeo 4C just pulled up in the U.S.
INTRODUCING THE ALFA ROMEO 4C.
SEE WHY IT'S GENERATING MAJOR BUZZ.
We appreciate your interest in the new Alfa Romeo 4C. The 4C is an agile, mid-engine rear-wheel-drive coupe created from the best of Alfa Romeo engineering and its rich motorsports history. With a few high revs, true aficionados can discern its distinctive exhaust note. The 4C is the first mass-produced Alfa Romeo to be sold in the U.S. since 1994.


THIS STUNNING NEW PERFORMER FEATURES:

A new direct injection 1750 turbocharged I4 engine with an aluminum block and head that generates 237 horsepower and 258 lb-ft of torque
A unilateral carbon fiber monocoque chassis that delivers a vehicle weight of only 2,450 lbs
6-speed TCT Twin Clutch Transmission with Launch Control
An exhilarating 0-60 mph in 4.1 seconds(1) and a top speed of 160 mph
Learn More Now

(1) Based on Motor Trend's "First Test: 2015 Alfa Romeo 4C Launch Edition Track Package" on August 20th, 2014. Actual results may vary. ©2014 Chrysler Group LLC. All Rights Reserved. ALFA ROMEO is a registered trademark of Fiat Group Marketing & Corporate Communications S.p.A., used with permission.

---
Event Schedule

Check out our
2015 Event Schedule
More events and details will be added so keep coming back!